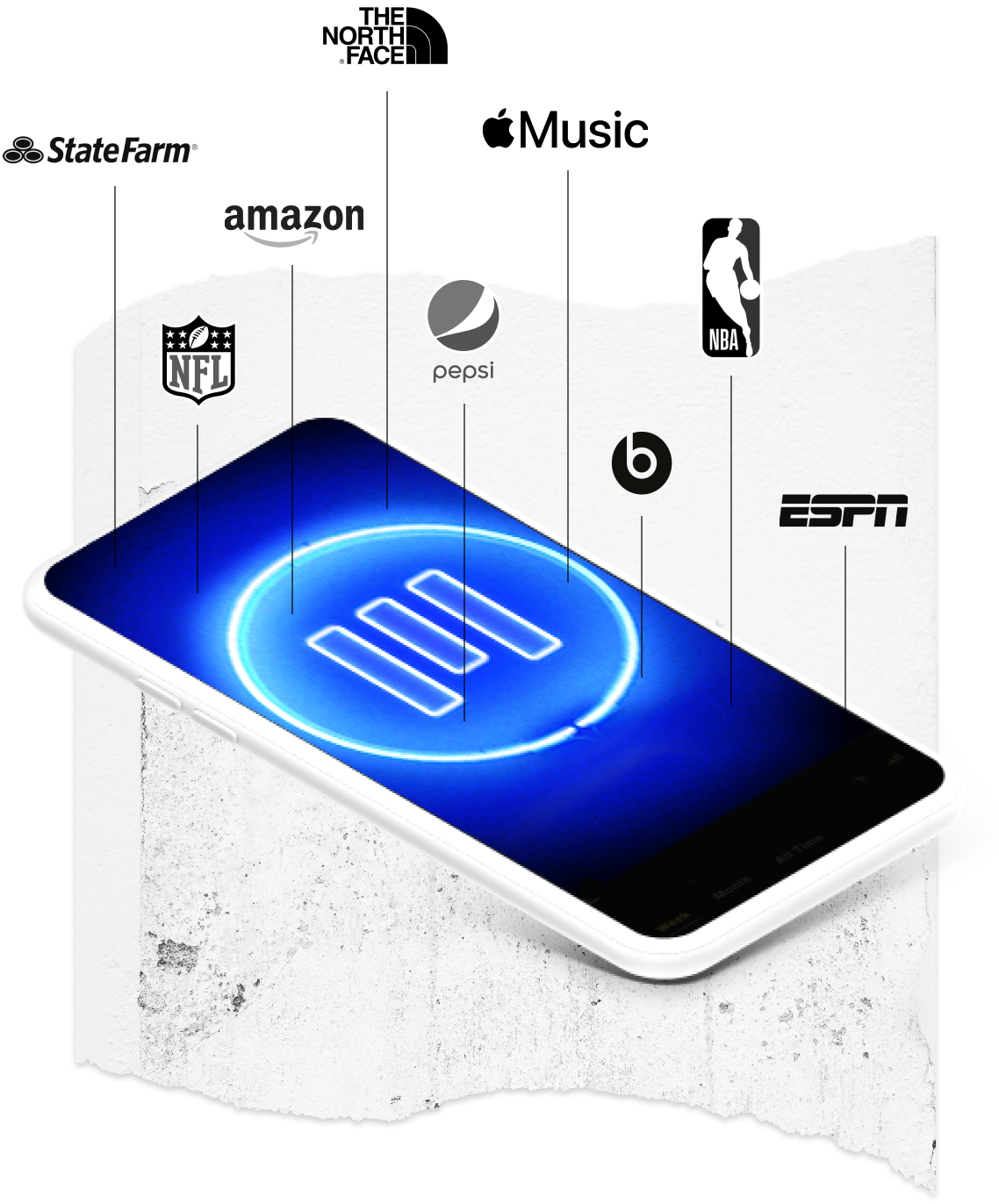 Submit your music for sync placements & exclusive brand deals
Access music sync licensing opportunities & tap into new audiences through exclusive brand deals. Grow your fanbase with UnitedMasters SELECT.
Sign up for UnitedMasters SELECT and create your artist profile to start distributing music.
Once your release has been approved, browse sync opportunities in the "Exclusives" tab of the app.
Submit your track(s) for consideration and check your email for important updates from our Sync Licensing team.
Dynamic Headline
What is Music Sync Licensing?
Music makes up the emotional backbone of many key moments in visual media. A "synchronization" (sync for short) is the attachment of a song onto visual media. These syncs are previously made music, licensed to a company to be used in media or content specifically made for a project. Music supervisors typically make the decisions behind sync selections.
The importance of sync placements often loses traction within the constant shuffling done by music industry stakeholders, but UnitedMasters' Director of Artist Operations Traci Tolmaire broke down why syncs need more emphasis among rising artists:

"In terms of visibility, the NBA collectively on all of [its] social media has an audience of tens of millions of people. Even if 300,000 people view [the content your music is featured on], that's a win. How many opportunities do you have to get your music in front of 300,000 ears in one shot? Every opportunity is valuable."
– Traci Tolmaire, Director of Artist Operations at UnitedMasters
Major labels sometimes keep sync opportunities gated away, which makes UnitedMasters' partnerships with established brands like Bose and the NBA a welcoming door for independent artists to enter. Rather than filtering through a list of soulless songs, brands come to UnitedMasters with the ability to choose rich content from diverse, hungry creatives.
Although music briefs vary from project to project, upbeat, high-energy songs with positive lyrics are the best candidates for sync placements in commercials and TV shows.
Level up your career with exclusive brand partnerships
With SELECT, you get more than just unlimited distribution. Submit your music for exclusive sync opportunities and promote your music worldwide - all from your phone.

YOU + THE WORLD'S BIGGEST BRANDS
Up your game, reach new fans, and get paid doing it with access to Exclusive brand partnerships, sync deals, and perks. Get your music featured by brands like Pepsi, AT&T, the NBA and more.
"Being from South Carolina I never thought I would have the opportunities that UnitedMasters has provided for me. By distributing my music with UM and getting sync'd with ESPN, Overtime Elite, and the NBA, I'm now reaching fans around the world in countries I've never visited before."
—Troop DZA, "The Runners"
Selected for ESPN, Overtime Elite and the NBA
"UnitedMasters gives independent artists a chance to get their music heard out in the world so they can find new audiences & find their tribe."
—Oompa, "It Ain't Safe"
Selected for a Bose campaign
"When I applied to the Ally Exclusive, I wasn't sure if my music would be a good fit. The next thing I knew they told me I was chosen to perform live at New York Fashion Week for a Diageo - Crown Royal event. It was the experience of a lifetime, and it opened up new revenue streams for me so I can focus on just making music in the studio for the next projects ahead."
—Pieri, "Quien Paga"
Selected for Diageo's Crown Royal Live Event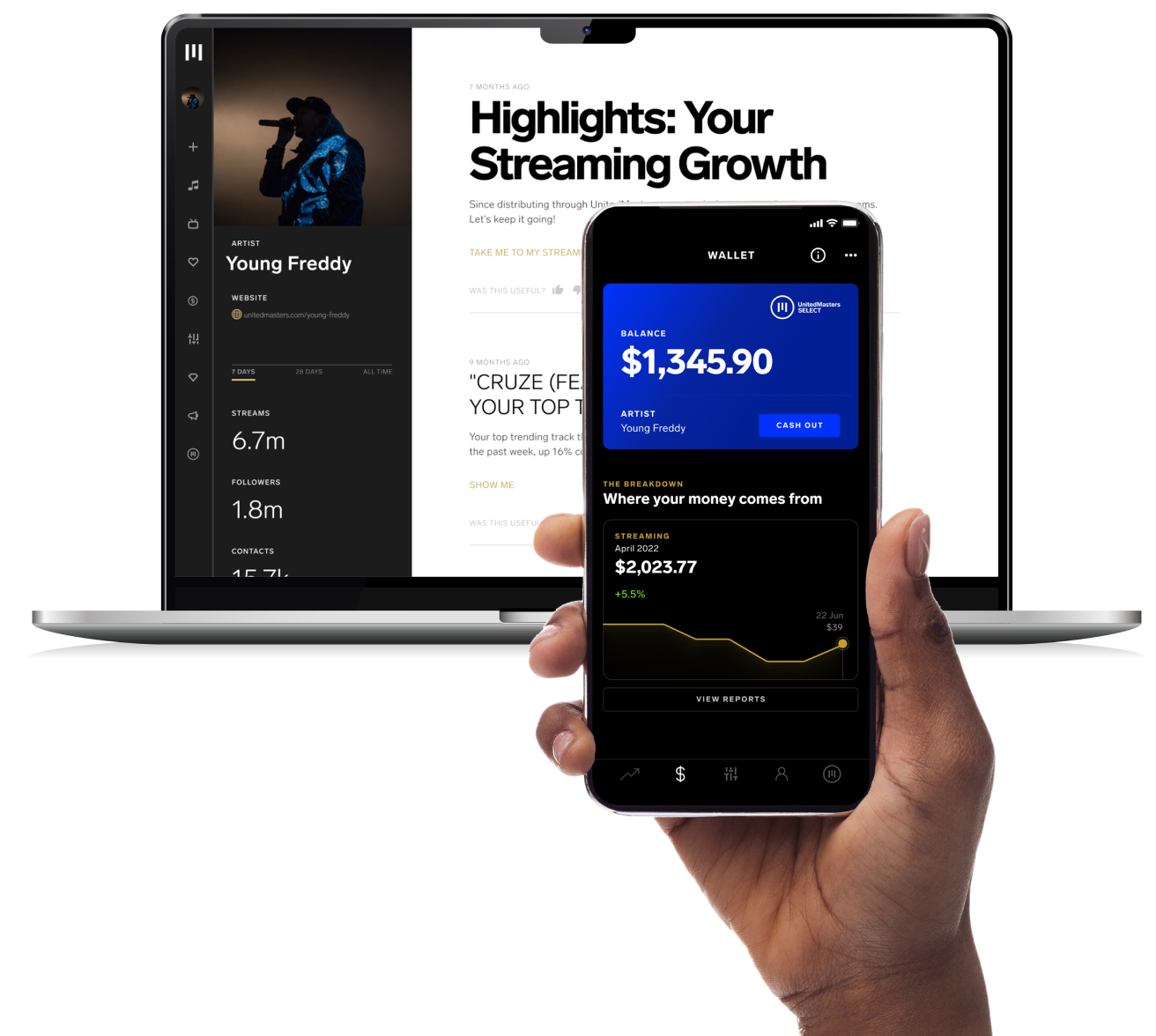 A record label in your pocket
Tap into all the tools you need on any device. Sign up now to release songs, apply for Exclusive brand & sync deals, manage payouts, and more.

Music Sync Licensing & Brand Partnership FAQs
HOW DO I KNOW IF I CAN LICENSE MY MUSIC FOR SYNCS?
If you're an artist looking to license your music for sync, there are a few things you should consider:
Ownership of the music: In order to license your music, you need to own the copyright for the composition and the sound recording. If you've written and recorded the music yourself, you likely own both. However, if you've collaborated with other artists or used samples from other songs, you may need to obtain permission from those artists before you can license your music.
Music publishing: You should ensure that your music is properly registered with a music publishing company, as they can help you with the licensing process and ensure that you're getting paid for the use of your music.
Music genre and style: The type of music you create will determine the types of shows and movies that are a good fit for your music. For example, if you create instrumental music, you may have a better chance of licensing your music for use in television shows and movies that need background music.
HOW DO I GET MY MUSIC PLAYED IN MOVIES AND TV?
Getting your music played on TV shows and movies can be a great way to increase your exposure and reach a wider audience. Here are some steps you can take to increase your chances of getting your music synced:
SELECT Yourself: Start your 14-day free trial of UnitedMasters SELECT to start taking your career to the next level.
Create Your Account: After upgrading to SELECT, you'll want to create or link your artist profile to start distributing music.
Distribute Your Music: When you're ready, you can release your music from the mobile app or on web.
Submit For Exclusives: Now that your music is up on streaming platforms, you're ready to submit for TV & film sync. Navigate to the 'Exclusives' tab in the app to browse currently-live sync opportunities.
Licensing and Royalties: Make sure you understand the licensing and royalty requirements for using your music in TV & film. Obtain the necessary licenses and permissions, and ensure that you are properly registered with a performance rights organization (PRO) so that you can collect royalties for the use of your music.
Be Persistent: Getting your music synced is a competitive process, so be persistent and keep networking and submitting your music for sync licensing. It may take time, but with hard work and determination, you can increase your chances of getting your music played on TV or in films.
These are some steps you can take to increase your chances of getting your music synced. It's important to remember that getting your music played on TV and in film is a challenging process, but with hard work and persistence, you can greatly increase your chances of success.
WHAT KIND OF LICENSING AND PLACEMENT OPPORTUNITIES DOES UNITEDMASTERS OFFER?
UnitedMasters is a music distribution and marketing platform that provides sync licensing and placement opportunities for independent artists.
In terms of licensing, UnitedMasters helps artists secure sync licenses for their music in film, television, commercials, and other media. This includes identifying and securing placement opportunities, negotiating deals, and collecting royalty payments on behalf of the artists.
UnitedMasters also works with brands and music supervisors directly to find the right music for their projects. The company has partnerships with companies like Bose, Pepsi, Statefarm, Diageo, and more, which allows it to provide placement opportunities to its artists. UnitedMasters operates on a revenue-sharing model, meaning that artists receive a portion of the revenue generated from their music. The company provides artists with detailed analytics and insights, helping them better understand their audience and grow their careers.
DO ARTISTS GET PAID WHEN THEIR SONGS ARE PLAYED ON TV?
Yes, artists get paid when their songs are played on television. The payment is made through a performance rights organization (PRO), such as ASCAP, BMI, or SESAC in the United States. These organizations collect performance royalties on behalf of songwriters, composers, and music publishers and distribute them to their members. The amount of money that an artist earns from television plays depends on many factors, including the specific PRO, the country in which the broadcast takes place, the type of television program, and the terms of the artist's agreement with the PRO. In general, television plays can generate significant income for artists and can be an important part of their overall revenue stream.
To register with a performance rights organization (PRO), you can follow these steps:
Research the different PROs: There are several PROs around the world, each with different requirements and processes for registration. Some of the most well-known PROs include ASCAP, BMI, and SESAC in the United States, PRS for Music in the UK, and SOCAN in Canada.
Determine your eligibility: Each PRO has its own requirements for membership, such as being a songwriter, composer, or music publisher. Make sure you are eligible to join the PRO you are interested in.
Gather required information: To apply, you will need to provide basic information about yourself, including your name, address, and contact information. You will also need to provide information about the songs you have written, including the title, lyrics, and a recording if available.
Submit your application: Each PRO has a different process for submitting an application, but it is typically done online. You may need to submit your application, along with any required materials, through the PRO's website.
Wait for a response: After submitting your application, it may take several weeks or months to hear back from the PRO. Once your application has been approved, you will become a member and will be eligible to receive performance royalties for your songs.
Note that the process for registering with a PRO can vary depending on the specific organization and your country of residence, so be sure to check the specific requirements for the PRO you are interested in.
HOW CAN UNITEDMASTERS HELP TO GET MY MUSIC ON TV?
UnitedMasters can help artists get their music on TV in several ways: Licensing Services: UnitedMasters can assist artists with obtaining the necessary licenses and permissions to use their music in TV shows and commercials. This includes negotiating and securing synchronization licenses, which are required to use music in timed relation with visuals, and performing rights licenses, which are required to perform the music publicly. Royalty Collection: UnitedMasters can also help artists collect royalties for the use of their music in TV shows, films and more. By collecting performance royalties on behalf of the artist, UnitedMasters can ensure that the artist is properly compensated for the use of their music in TV programming. Music Promotion: UnitedMasters can promote an artist's music to music supervisors, who are responsible for selecting and licensing music for use in TV shows and commercials. By highlighting an artist's music to music supervisors, UnitedMasters can help increase the chances of the artist's music being selected for use in TV programming. By offering these services, UnitedMasters can help artists navigate the complex world of music licensing and increase the chances of their music being used in TV shows and commercials. However, there are no guarantees that an artist's music will be used in TV programming, as the final decision on what music is used is typically made by the music supervisors and producers of the TV shows and commercials.
HOW DO I GET STARTED WITH MUSIC SYNC LICENSING?
UnitedMasters is making it easier than ever for independent artists to land their music on TV.
1. SELECT Yourself: If you don't already have a UnitedMasters SELECT account, you'll need to create one. This can be done through the UnitedMasters website or mobile app.
2. Upload Your Music: Once you have an account, you can upload your music to the platform. UnitedMasters accepts a variety of file formats, including MP3, WAV, and AIFF.
3. Submit For Sync: UnitedMasters has partnerships with various TV networks and music supervisors, who are constantly looking for new music to include in their programming. You can submit your music for consideration through the UnitedMasters platform.
4. Wait for feedback: Once you've submitted your music, you'll need to wait for feedback from TV networks and music supervisors. This process can take several weeks or even months, as there are many factors that go into selecting the right music for a TV show or commercial.
5. Get Paid: If your music is selected for use on TV, UnitedMasters will handle all of the licensing and royalty collection on your behalf. You'll receive compensation for the use of your music, which will be paid out to you on a regular basis.
Note that getting your music on TV is a competitive process, and there is no guarantee that your music will be selected. However, by partnering with UnitedMasters, you'll have access to a wider network of music supervisors and TV networks, increasing your chances of success.
HOW MUCH DOES IT COST TO GET YOUR MUSIC ON TV AND MOVIES WITH UNITEDMASTERS?
With a UnitedMasters SELECT membership, you get access to exclusive sync deals at no additional cost.
Start a 14-day free trial of SELECT to submit your music for these opportunities.
WHAT ARE THE BENEFITS OF SYNC LICENSING FOR ARTISTS?
Sync licensing can be a beneficial way for artists & musicians to earn income and gain exposure for their music. Here are some of the benefits:
Revenue generation: Sync licensing provides an opportunity for artists/musicians to earn revenue through licensing fees and royalties. When a song is licensed for use in a TV show, movie, or commercial, the artist(s) receives payment for the use of their music.
Increased exposure: Sync licensing can provide exposure to a wider audience. When a song is used in a popular TV show or movie, it can introduce the artist/musicians to new fans who may not have heard their music before.
Brand association: Sync licensing can also create brand association. If an artist's music is used in a commercial for a popular brand, it can create a positive association between the artist and the brand.
Networking opportunities: Sync licensing can also provide networking opportunities for artists & musicians. Working with music supervisors and licensing agents can help artists/musicians to build relationships in the music industry.
Overall, sync licensing can be a valuable way for artists/musicians to generate revenue, gain exposure, and build their brand.
HOW DIFFICULT IS IT TO GET A BRAND DEAL WITH MY MUSIC?
Getting a brand deal through music can be challenging, as there are many factors that can influence the likelihood of securing such a deal. However, UnitedMasters SELECT is a platform that can help connect artists with brands and sync deals, making it easier for artists to earn revenue and gain exposure for their music.
To increase the likelihood of securing a brand deal through UnitedMasters SELECT, artists should focus on developing their brand identity, growing their fan base, and producing high-quality music that aligns with the needs of potential brand partners. Additionally, having industry connections can be helpful in navigating the complex world of brand deals and sync licensing.
Through UnitedMasters SELECT, artists can access a network of brands and licensing opportunities, increasing their chances of securing lucrative deals that can provide exposure, revenue, and opportunities for growth. With the right approach and the support of UnitedMasters SELECT, artists can successfully navigate the world of brand deals and sync licensing, leveraging their music to generate income and build their brand.
WHAT IS MUSIC SYNC LICENSING?
Music sync licensing is the process of granting permission to use music in synchronization with visual media such as movies, TV shows, commercials, video games, and online videos. It involves obtaining the necessary rights to synchronize a musical work with a visual image and distribute the resulting product.
In simpler terms, it's the legal process of getting permission to use a song in a TV show, movie, commercial or other visual medium. It is an important aspect of the entertainment industry as it allows creators to enhance the emotional impact of their visual media with music and provides a revenue stream for music creators and publishers.
HOW DO I FIND BRAND DEALS THAT INVOLVE MUSIC SYNC LICENSING?
UnitedMasters SELECT is a great destination for artists looking for sync opportunities through brand deals. The platform is designed to help independent artists distribute and monetize their music while also connecting them with various brand partners for sync licensing opportunities. Additionally, UnitedMasters SELECT provides access to a range of brands and their marketing campaigns, which artists can align their music with to create successful sync deals. By leveraging UnitedMasters SELECT, artists can increase their exposure, generate new revenue streams, and expand their fan base through brand deals with music sync licensing.